Indianola

High School




Class Of 1971
Celebrating 50 Years!! HOW is that possible?!
(We will miss those of you who cannot join us!)
Friday, October 7, 2022--Cost is on your own.
West Hill Brewing Company, 219 W Salem Ave, Indianola (close to Square)
**This is the first day of their "Oktoberfest," so it could get crowded; no reserved seating. There are a few picnic tables out back; perhaps we can snag those?
--3:00pm: Tap the Golden Keg - $4 draws until it's empty; all others $5.50-$6.50. There are also two hard ciders, coffee, water, tea & pop. They do not have ice, so we will bring some.
--5:00pm (maybe sooner): "Hot Off the Presses" food truck. Their usual items are a grilled cheese panini and fresh baked cookies, plus they will have German-style sausages and pretzels. You may bring in snacks or food from other sources.
--7:00pm: Stein holding contest, followed by live music by "Polka Police," who bill themselves as "stupid awesome polka-themed rockin' parodies, covers and originals."
Football: If interested - 7:30pm against Carlisle. Cost is $6.00. Stadium is across the street from the HS.
Saturday, October 8, 2022
Roger & Mary (McIntyre) Overton's, 14992 73rd Ave, Indianola
--From Hwy 92 west of Indianola, turn south (left, if coming from town) onto R-57;
--2.5 miles, cross the metal bridge, pavement turns west (right);
--Stay on the pavement 1.25 miles to Nevada St, turn west (right);
--Continue 1 mile to where the road curves into 73rd Ave; the driveway is straight ahead, like an extension of Nevada St.
--3:00pm to whenever we get tired, ... or Roger & Mary get tired of us!
--BYOB of any kind. There is a small amount of available refrigerator space. We will have extra ice, plus some bottled water. Coffee is coming with the meal.
--5:30-ish pm: Full-sized buffet meal, so eat light earlier in the day! Catered by Dixie Janes Bowlin, class of '72.
--Cost: $25 per person. Please don't let the cost keep you from coming!
***Payment options:
--Venmo: @Indianola-Class-1971 You will need the 4-digits 3530. No fees!!
--At our website: indianola71.com Click on "50th Reunion..." in the left-hand menu. You will need to log in. This option uses PayPal with your credit card, and they will take $1.36 out of every $25.
--In Person that day: Check made out to "Indianola Class of '71" or exact cash, please.
COVID-19: The class of '72 reunion in July turned out to be a mini "super spreader," so if you choose to wear a facemask, we won't turn you away! You may have to drop it momentarily so we can recognize you, however!! In all seriousness, please do what makes you most comfortable.
Extra info:
*There are NO ONE WAY STREETS in Indianola any more.
*Overton's building is heated, but we hope the weather allows us to keep the overhead door open.
*There is a bathroom in the building. Hooray - no portable toilets!!!
*We'll have a bonfire, if wind and weather permit.
Sunday morning: Crouse Cafe has a Brunch Buffet from 8-10:30am (or whenever the food runs out, usually between 11 and noon!) They do not take reservations, but if you have a group who'd like to sit together/nearby, call ahead & they'll see what they can do (per John!) 115 E Salem Ave; 515-961-3362
Looking forward to a great time reconnecting! Safe travels to all!!
Facebook: Indianola class 1971
Reunion 2016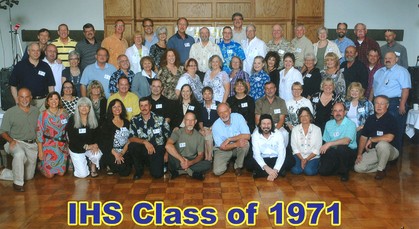 Reunion 2011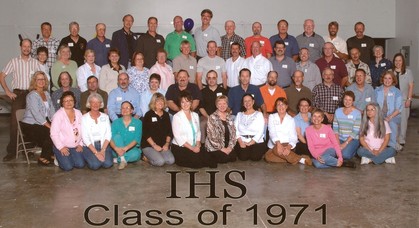 Reunion 2006
Happy Birthday to all of us middle aged folks.