Indianola

High School




Class Of 1971
The 50th Reunion is ON
Saturday, October 9, 2021
- Location: Roger & Mary McIntyre Overton's, SW of Indianola
- Tentative start time: 2:00-3:00pm-ish
- Casual meal with "plain" beverages 5:00pm-ish. All welcome to BYOB of your choice
More details to come.
1. If you are likely to attend and have not already responded to Paula's email, please use the "Contact Us" button to let us know if there would be 1 or 2 of you. We need a rough estimate for catering pricing as well as table/chair rental. This is NOT a commitment from you, even though we hope you'll come!!
2. Please let us know if you'd like us to have a Friday (or Sunday?) gathering spot, possibly an eatery where each can do their own food/drink but still hang out with classmates...OR...do more of your own thing?
PLEASE pass this information along to any classmates with whom you may be in contact. If we could also get their contact info, even better!
Extra info:
- IHS has a football game in Carlisle, Friday, the 8th.
- Covered Bridge Festival is in Winterset that weekend.
- Hotels in town:
Country Inn & Suites (newest), 515-808-4054
Quality Inn (was a Super 8), 515-961-0058
Hotel Pommier (was Apple Tree Inn) 515-961-0551
The Corn Crib Bed & Breakfast (3 beds-up to 7) 515-961-3152
Questions and/or more suggestions welcomed!
Steve Mathews 515-360-6250
Diane Woodruff Roscoe 515-360-0660
THANK YOU CLASSMATES FOR ORGANIZING!
Diane Woodruff Roscoe, Steve Mathews, Roger D. Overton, Rodney Prickett, Dave Nicholls, Rick Nickelson, Brad Eveland, Cal Leonard, Paula Gorham Bean
Facebook: Indianola class 1971
Reunion 2016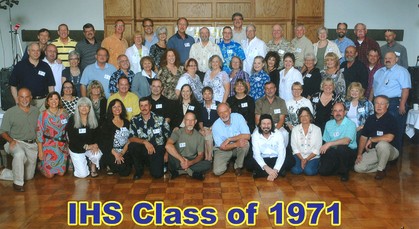 Reunion 2011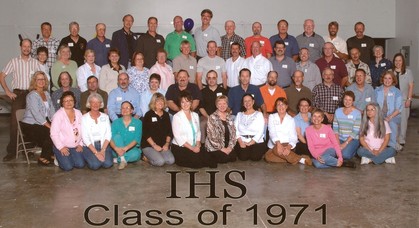 Reunion 2006
Happy Birthday to all of us middle aged folks.